WORK WITH US / Trabaja con nosotros

Join the farm crew, help us feed our community. / Intégrate al equipo y ayúdanos alimentar a la comunidad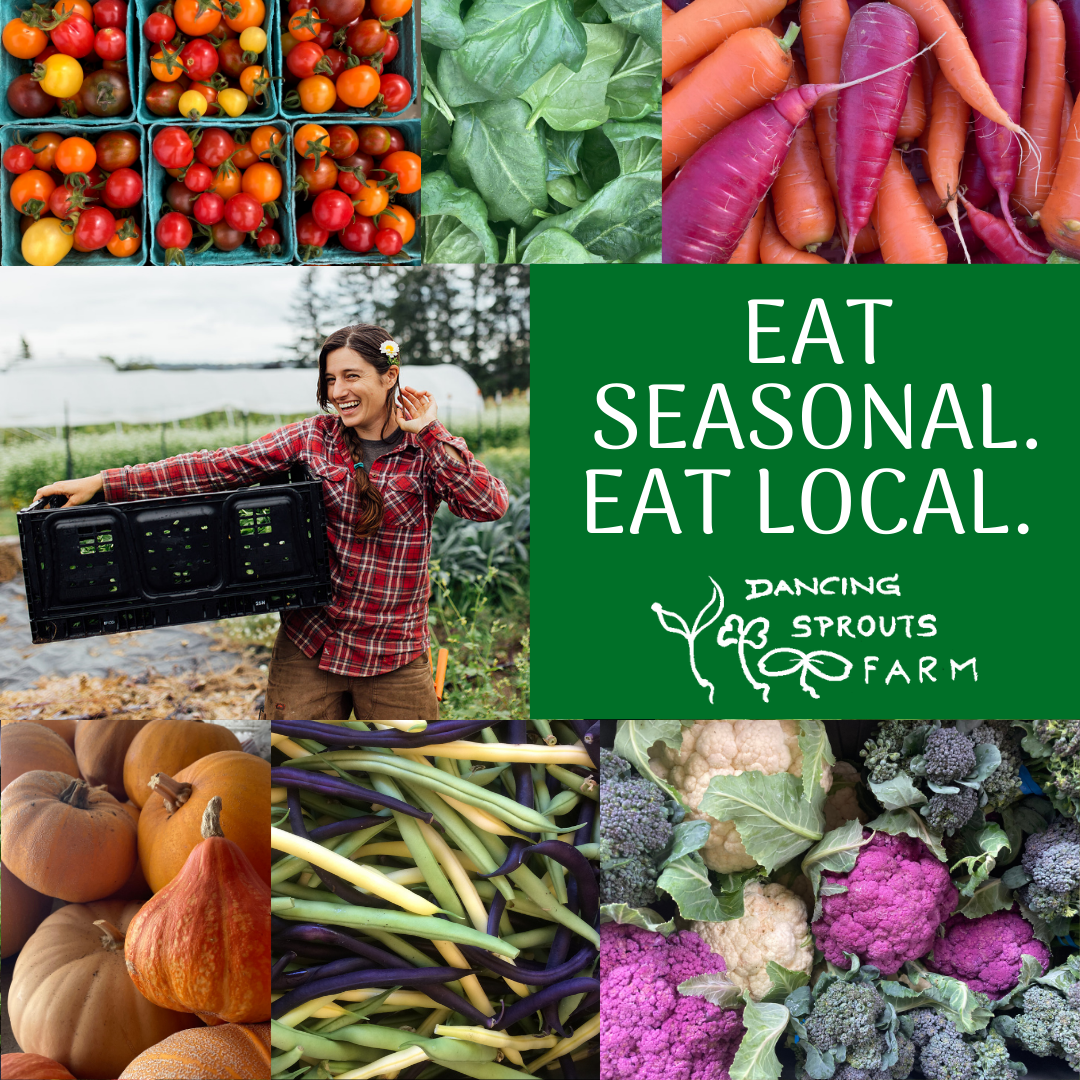 2021 Employment at Dancing Sprouts Farm (español abajo)

We are seeking a part-time member for our 2021 farm crew!
Part time opportunities at other farms locally could also be combined to create full time equivalent work – let us know if this is what you are looking for and we will do our best to coordinate.

Dancing Sprouts Farm is a half-acre diversified vegetable farm on leased land in Orting, WA. We are in our third season of operation and up until now have been managed and worked solely by the farm owner, Gillian Locascio-Drutis. We work mostly with hand tools and use no-till, no-chemical practices.
Gillian is excited to have grown the farm to the point where a part-time employee is both needed and possible, and looks forward to working with a new employee to train them in our farm's operations, improve our systems, and provide delicious local vegetables to our 80+ member households this season.
Learn how to grow a large amount of vegetables in a small space, how to properly harvest and handle vegetables for high quality direct-to-consumer sales, and some of the ins and outs of administering a small-scale CSA.
We are an equal opportunity employer; we celebrate diversity and are committed to providing a safe and inclusive workplace to all.
Field crew 1 part-time position available
1-2 days/week: June – October, start and end dates flexible.
Hours: 8-16 hours per week, Tuesdays and either Sundays or Mondays.
Compensation: $15/hour
Veggies from the farm
Accrued Sick Leave (1 hour for every 40 hours worked)
Possibility of switching work days 1-2 times during the season, as agreed in advance with farm owner, to allow for longer periods of vacation time.
Responsibilities may include:
Primary – Harvest/Pack: harvesting our many types of vegetables, washing and packing vegetables, packing CSA shares and orders.
Field Work: amending, spreading compost, planting, seeding, weeding, mowing, crop maintenance, weeding, field clean up
Other: installing and removing trellising, moving caterpillar tunnels, irrigation maintenance, spreading compost
Other Duties could include: CSA delivery, other driving duties
Requirements:
Must enjoy working outdoors in all weather conditions and able to stand, squat, kneel, and walk for extended amount of time.
Lift 50 pounds repeatedly and enjoy physical labor.
Valid driver's license/reliable transportation required.
Positive attitude, willingness to learn, attention to detail, good communicator and record keeper
We are unable to provide housing on the farm.
To apply:
Please send a short cover letter and resume to dancingsproutsfarm@gmail.com
Please include why you are interested in working at Dancing Sprouts Farm, your long and short term goals, and 2 references.

Buscamos empleado/a a tiempo parcial:
Dancing Sprouts Farm es un huerto comercial donde producimos una gran diversidad de verduras. Alquilamos medio acre en Orting, WA.  Estamos en el tercer año de producción y hasta ahora fue manejado y trabajado exclusivamente por una persona, Gillian Locascio-Drutis. Ella está emocionada poder emplear a una persona más este año para ayudarla. Proveemos verduras locales y deliciosas a más de 80 familias y buscamos a una persona colaboradora a quién le interesa aprender y mejorar los sistemas de producción. Trabajamos en mayor parte con herramientas manuales y con técnicas de baja cultivo. Evitamos químicas para proteger la salud de las personas y de la tierra.
!Trabaja con nosotros! Aprende como producir una gran cantidad de verduras en poco espacio, como cosechar y manejar verduras de alta calidad para la venta directa a los consumidores, y algunas técnicas para administrar un programa de agricultura con apoyo comunitario (Community Supported Agriculture, CSA).
Somos empleador de oportunidad igual – celebramos diversidad y nos dedicamos a proveer un ámbito de trabajo seguro e inclusivo a todos y a todas.
Personal de campo, posición de tiempo parcial
1-2 días por semana: Junio – Octubre, fechas exactas son flexibles
Horas: 8 a 16 horas por semana, domingo/martes o lunes/martes.
Salario: $15/hora
Verduras de la finca
Permisos por enfermedad pagados (1 hora de permiso por enfermedad pagado por cada 40 horas que trabaje)
Posibilidad de cambiar los días del trabajo 1-2 veces durante el año, de acuerdo con la empleadora, para acomodar las vacaciones.
Responsabilidades pueden incluir:
Trabajo principal – cosechar y empacar: cosecha y lavado de nuestra gran variedad de verduras, empaca de pedidas, limpieza y sanitación del área de empaque.
Trabajo de campo: abonar y acondicionar el suelo, sembrar, trasplantar, desmalezar, podar, y cuidar a las plantas
Mantenimiento: instalar y quitar sistemas de tutoreo, mudar invernaderos, mantener sistema de irrigación, limpieza general
Responsabilidades adicionales pueden incluir: entrega de CSA con nuestra camioneta de reparto
Requisitos:
Disfrutar el trabajo al aire libre en condiciones climáticas variadas.
Poder estar de pie, agachado, de rodillas, y caminando por periodos extendidos.
Levantar 50 libras repetidamente y disfrutar la labor física.
Poseer licencia de conducir válida.
Mantener actitud positiva y comunicación abierta, estar dispuesto a aprender, atender a los detalles y registros
No podemos ofrecer alojamiento en la finca.
Para aplicar:
Favor de enviar una breve carta de presentación y  hoja de vida a dancingsproutsfarm@gmail.com
Incluye los siguientes detalles: por qué estás interesado en trabajar con Dancing Sprouts Farm, tus metas de corto y largo plazo con respeto a la agricultura, y contactos de 2 recomendantes.